---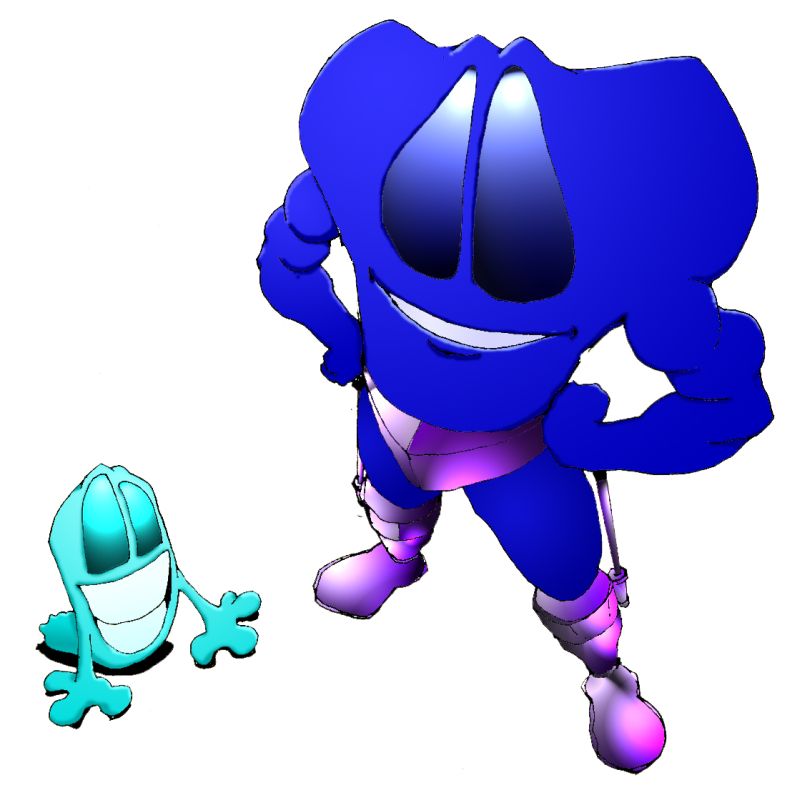 Tee is an adult of the Wruddzzud species who hails from the planet Kagzdarhkstuovrudx. Tee has been granted the use of a small spacecraft in order to fulfill its' mission: to orbit the planet Earth, observe the Human species, and compare the nature of Humans and Wruddzzud. Tee is intelligent, friendly, and very fond of humans!
Wee is Tee's younger sibling, a semi-larval Wruddzzud. Since Wee finds life on Kagzdarhkstuovrudx to be dull and boring, it has stowed away on Tee's spacecraft in order to accompany its' sibling to Earth. Wee likes to help Tee with many tasks aboard Tee's spacecraft, but since it is clumsy, curious, and careless, Wee often gives Tee more trouble than help!
---
---
---
I was born in Pennsylvania in 1979; I currently reside in Wisconsin. I write as both an occupation and a pastime. Some of my other hobbies include photography, target shooting, board games, jigsaw puzzle assembly, hiking, and cycling. I also play the flute and recorder, though not very well.
Some of my output and interests can be sampled at my website and my public bookmarks.
Christopher Galletta
I'm a cartoonist/commercial artist and I've been drawing since I was a small boy when I made my own original comic strips in elementary school, and my own original comic books in high school. On seeing these, the teacher in charge of the local high school newspaper had me draw cartoons and advertisements for which I won several awards, including 1st place overall for the Empire State School Press Association (1989-1990) and two 1st places and a 2nd place from the Syracuse Newspapers (1990-1992). In the future, I plan to move into full-time illustrated books, comics, graphic novels, comic strips, political cartoons, or other assorted jobs as a commercial artist. Large and varied samples of my artwork can be seen on my two webcomics: Towner (my kid-friendly comic strip) and ChrusherComix (my ongoing mature-teen-to-adult comic book that I started 18 years ago). I reside in Oswego County, New York, where I was born. I recently married the most beautiful Thai woman alive named Rungnapha (nicknamed 'Au') which concluded a two-year odyssey of internet chats, twenty-four hour flights to and from Thailand, and mounds of immigration papers. We live with my family and I work seasonally in our family business as both a greenhouse florist and assistant. My hobbies and pastimes are varied. I'm the co-owner and multi-year champion driver in a Go-Kart racing league. My creative side and love of commercial art can likely be traced to my childhood fascination of many things such as the Star Wars saga, Transformers: Generation One, the Indiana Jones saga, 1980s era G.I. Joe, the comic book art of Todd McFarlane and Jim Lee, and Bill Watterson's unparalleled Calvin and Hobbes, all to which I greatly owe my love of storytelling, cartooning, comic books, animation, and collectibles. My favorite musical artist is John Williams. I'm a lifelong fan of his music, since being hooked on his world-famous film scores to the Star Wars saga, the Indiana Jones saga, Superman, E.T., the Jaws series, the Jurassic Park series, ect. I have every film score and original composition available on CD and my collection can easily be considered world-class. For exercise, I play basketball and engage in the aforementioned Go-kart racing during the warm months, and stick to light weightlifting and treadmill jogging in the cold months while watching my favorite pro-sports teams, the NBA's San Antonio Spurs and the NFL's New York Jets. I'm also a fan of Supermodified and asphalt Modified short track auto racing, where I'd probably race if I could afford it.